GENUINE POROS

Poros is one of the most popular and unspoiled of the smaller Greek Islands.
Poros offers to visitors not only a haven for relaxation but a real chance to experience the authentic Greek island lifestyle and exciting nightlife and to explore the classical sites of the Peloponnese and Athens, both within easy reach.

This naturally beautiful island is one of the most southerly in the chain of the volcanic Argo - Saronic Islands. It consists of the tiny peninsular Sferia and the main part of the island, Kalavrita.
The picturesque and animated harbour and Poros Town are situated on Sferia, easily accessible from Pireus, the port of Athens and from Galatas, a small town on the Peloponnesian peninsular. When the cruise ships arrive and the port fills with tourists from all over the world, for a few hours Poros town generates a bustling, cosmopolitan atmosphere. During the day, it is easy to relax among the numerous, friendly restaurants and bars and in the evenings you can enjoy the varied and colourful nightlife.
ROMANTIC POROS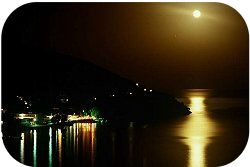 Poros has its place in romantic Greek mythology. It is here that Theseus, who overcame the Minotaur of Crete, was conceived as a result of the love affair between Aegeus and Aethra. With its undulating tree-clad landscape, the intoxicating smell of pine in the air, secluded beaches, winding alleyways and the bewitching evening view over the Egliska Sea to the Peloponnese, Poros is still today made for romantic moments.