HISTORICAL POROS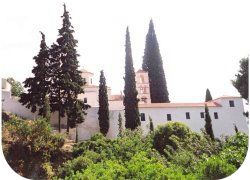 There are two notable historical sites on the island : the remains of the Temple of Poseidon, the god of the sea, dating from 500 B.C., discovered and excavated
by Swedish archaeologists, and the 15th century Monastery, Zoodhohos Piyi, "The Godmother's Cloister", the burial site of two Greek liberation army heroes, Apostolis and Tombazis.

Poros also has a part in Greek liberation history. The first Greek warship was built at Neorio beach and in1828 Poros was the venue for the first international conference that laid the ground for the future Greek monarchy.

Monastery: Close to the monastery you will find monastery beach. When visiting Kalavrita taverna on Monastery beach then don't forget to say hello to the owner Tasos from his good friend Christian and you will be taken care of extra well on your visit there..His service is also our service towards you.

Monasteries in Greece are always built in beautiful spots. So come and visit the local monastry and enjoy the beautiful views at te same time.